What's wrong with you people: Im ganzen Dorf sind schon die Bürgersteige hochgeklappt. Keine verfluchte Kneipe hat mehr offen.
Die "vom Macher von Ted"-Werbestrategie scheint sich jedenfalls auszuzahlen: Kino ist voll.
»Star Wars: Kitbashed«, ein Mashup von @Heilemann, in das die Einflüsse und Vorbilder des Films eingefügt wurden: eay.li/2gf
Gutes Finale. Jetzt bin ich umso mehr auf Staffel 3 gespannt. Im Februar 2015 soll's soweit sein. #HouseOfCards
@inselblog Da man vor der Alkoholvergiftung sicherlich Spaß hatte: letzteres.
@zwentner Man kann ja immer noch zu Instapaper zurückswitchen. Die machen gerade viel richtig, soweit ich das mitbekommen hab.
Pocket jetzt mit Premium-Angebot. Wenn das so late in the game kommt, befürchtet man ja, dass der Laden bald dicht macht.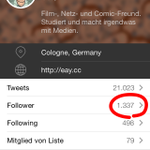 Mir bitte nicht mehr folgen und auch nicht damit aufhören: pic.twitter.com/94Rke8VGCX