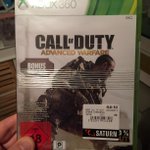 Meine Frau hat mir was zum spielen mitgebracht: pic.twitter.com/uC6JQVVLF5
@ununun Seit mehreren Wochen ist es eher die Ausnahme, wenn bereits mal was nach zwei Tagen da ist. #AmazonPrime
Endlich nutzen die iPad-Apps was! RT @verge: Dropbox and Microsoft form surprise partnership for Office integration theverge.com/e/6918016
Immerhin werten sie die Prime-Mitgliedschaft weiter auf, nachdem das mit dem schnelleren Versand ja nicht mehr ordentlich funktioniert.
"In 2014, losing your entire photo library should be almost impossible if you're smart about it." Naaaja…
@AndiH @supergarv Weshalb mir gerade schmerzhaft bewusst wird: Ich schaffe es voraussichtlich erst am Sonntag Interstellar zu gucken…
@AndiH @supergarv Verdammt! Am Freitag gibt's hier Dorffeierlichkeiten, bei denen ich dabei bin. Muss daher leider passen.
@ment0r Ich glaub's ja eigentlich auch, aber alle Reviews, die ich bisher gesehen hab, beziehen sich nur auf die PS4 oder One.
@ment0r Hm, das stimmt wohl. Hab aber noch keine Next-Gen… Ist die PS3-/360-Version denn inhaltlich und Spielmodi-technisch identisch?
Hey Gameosphäre: Kann man sich "Call of Duty: Advanced Warfare" nochmal für die Last-Gen kaufen oder lohnt sich das nicht?