Eilmeldung: Hauptstadtflughafen BER soll in einer nicht allzu fernen Zukunft öffnen
»The Winter Soldier« oder wie ich ihn gerne nenne: »Avengers 1½«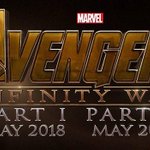 SuperheroFeed BREAKING: 'AVENGERS: INFINITY WAR' Part 1 & 2 to be directed by 'THE WINTER SOLDIER' directors The Russo Bros! RT! pic.twitter.com/Zuq5LOnMNl
@BlackChester Das ist gut. Man könnte den Kindern auch heutzutage erstmal nur das Terminal vorsetzen!
@BlackChester Wobei das natürlich ein Plan wäre: Unser Fernseher kann nur Englisch! :D
@BlackChester Du bist zweisprachig aufgewachsen? Aber die eine Sprache kam nicht nur durch Filme, oder? ;)
@BlackChester @oli61 Aus Rücksicht auf zukünftig geplante Kinder brauchen wir auch die deutsche Tonspur. ;)
Das Weihnachtsgeschäft hat Disney wohl nicht mehr nötig, sonst würden sie »Guardians of the Galaxy« doch nicht erst am 8.1. raus bringen…
@stadioncheck …ohne Jailbreak/rooten und mit nur minimalem Aufwand möglich ist, das mit dem FireTV zu machen, finde ich sehr begrüßenswert.
@stadioncheck Ist natürlich alles was hacky und wer spielen will sicherlich besser mit ner richtigen Konsole aufgehoben, aber dass es…
@stadioncheck Der Emulator, den ich verwende, unterstützt Wiimote + Wii Classic Controller per Bluetooth.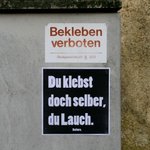 Neues von Barbara.: "Bekleben verboten." "Du klebst doch selber, du Lauch." facebook.com/ichwillanonymb… pic.twitter.com/hi23z4gLi3
What could possibly go wrong? instagram.com/p/wfOmhQHSyk/