Jetzt soll das europäische Leistungs­schutzrecht a.k.a. Artikel 11 der EU-Urheber­rechtsreform schnell in deutsches Recht überführt werden, fordern die, die zugunsten ihrer Lobby und ihres Geldbeutels gerne auch mal die internationale Konkurrenz­fähigkeit ihres Kontinents opfern.
EuGH verbietet deutsches Leistungsschutzrecht: turi2.de/aktuell/urteil… Ein Nonsens-Gesetz weniger. Hat ja nur sechs Jahre gedauert und innovative, journalistische Digital­angebote so lange hierzulande blockiert.
@WirImperium Gerade in der State of the Unit von eurem werdenden Nachwuchs erfahren: Herzlichen Glückwunsch und alles Gute auf dem Weg dahin!
HypercodeStudio Dadurch findet bei uns eine frühzeitige Exploration neuer Technologien und Bildung von Fach­wissen statt, die anschließend wieder Einkehr in unsere Dienst­leistungen findet (Motto: "Wir lernen nicht an Ihrem Produkt, sondern an unserem").
HypercodeStudio Und das machen wir zum einen im Kundenauftrag, zum anderen für uns, indem wir eigene B2B- und B2C-Lösungen entwickeln, wie z.B. die beliebte Daycounter-App @yonksapp für #iOS & #Android.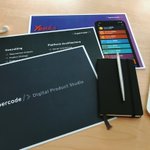 HypercodeStudio Als Digital Product Studio sind wir erfahrener und tatkräftiger Partner, wenn es um digitale Produktentwicklung geht.

#hypercode #digitalproductstudio #webdevelopment #appdevelopment #startup #produktentwicklung #software pic.twitter.com/TZzpPP3Zm3