thegoodgodabove The fact Tom Hanks has coronavirus and Donald Trump doesn't definitively proves I don't exist.
_EveyWinters I feel like @yonksapp should be part of any trans persons tool kit for remembering all those little dates. pic.twitter.com/xeXFGPYJwZ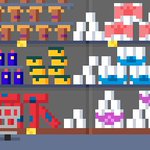 Drekinn Viral Activity. #coronavirus #pixelart #animation pic.twitter.com/rLZeakQnAz
Das Kölner @WeWork agiert ab sofort mit reduziertem Personal und – The End is near! – stellt den Bierausschank ein.

(Gut, wir arbeiten seit zwei Wochen fast ausschließlich im Home Office, aber … Bier! 😉)
Wieso digital-kommunizieren so viele Kommunalpolitiker eigentlich nur auf Facebook und wieso ist das legal?