@popkalender Ach so, du bist noch gar nicht da? Solltest du definitiv nachholen. Thematisch oft sehr Technik-spezifisch, aber sehr nett da.
@popkalender Ja, wenn man einmal gesehen hat, dass mit 256 Zeichen viel bessere Diskussionen möglich sind, will man da nicht mehr weg.
@popkalender Werden sie wohl nie tun. Aber ich muss schon sagen, dass die 256 Zeichen von App.net sehr viel angenehmer sind.
@th3italianjob Das dürfte bei mir ähnlich aussehen. Aber hast recht, könnte man dann und wann mal wiederholen.
#iOS7-Fazit der Freundin: "Jetzt sieht das aus wie ein Android-Handy und nicht mehr wie ein Apple-Gerät." Recht hat sie.
Wenn das stimmt, könnte aus der PS4 und mir doch mehr werden… Ich fand den 360-Controller dem der PS3 halt tausendfach überlegen#lastRTRT
jeffcannata My opinion? The PS4 controller feels far, far better than the Xbox One controller. This coming from a 360 controller fan.
Aber ansonsten muss man sagen, funktioniert das iCloud-Backup fast einwandfrei. *überrascht*
Ach wie schön, dass iOS 7 nach einspielen des iCloud-Backups erstmal alle Apps runterlädt - ohne Möglichkeit die Downloads abzubrechen.
Gibt's schon irgendwo gute iOS 7 Wallpaper?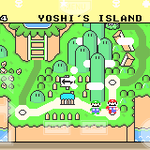 Bisschen Mario auf'm iPhone spielen… pic.twitter.com/Mos1Wp1LDw