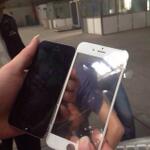 Zu groß! RT @thetechblock: Rumor: First photo of supposed 'iPhone 6' front panel surfaces buff.ly/Q9mX35 pic.twitter.com/HYAwu0ZERl
@sharkmade Ein älterer Bekannter ist neulich auch umgestiegen - und kommt erwartungsgemäß nicht so gut zurecht.
That's a great band name: "The Dwarf, The Cripple and The Mother of Madness" #GoT
Soweit ist es gekommen: Ich finde Facebook-Profilseiten ansehnlicher als die neuen Twitter-Profile.