@UARRR Welche App nutzt du da? Bin ja erst seit ner Woche im Besitz von Pro+Pen u. noch auf der Suche nach der idealen Drawing-App für mich.
"Zur Zeit sind keine Updates verfügbar. Versuchen Sie es später noch mal." Klingt nicht gerade so als wäre man up-to-date.
XplodingUnicorn Our Roomba rolled over a worksheet my 5-year-old was doing for school.

A robot literally ate her homework.

What a time to be alive.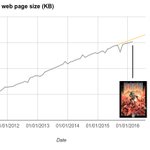 JackMarshall The average Web page size is now the same size as Doom mobiforge.com/research-analy… pic.twitter.com/xhkonZTEsD