@supergarv Stimmt, aber ich finde, das macht ihn schon fast wieder sympathisch, weil menschlich.
@JJBs_Cinema Sieht echt aus wie ein Bad-Ass-DeLorean. 😄
alex_navarro you win the Cybertruck when you survive Smash TV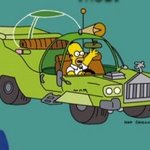 @Mugar Stimmt. Und beim Multipla muss ich immer an den Homer denken. pic.twitter.com/IXw4MUuaoY
@mcmaren Jap, ich erinnere mich auch daran, dass das Space-Lego und/oder -Playmobil meiner Kindheit so aussah. 😄
Auch gut: Elon hat den Cybertruck natürlich schon als offizielles Fahrzeug für seine Mars-Missionen angeteasert, was bedeutet, dass es dann dort oben genau so aussieht, wie wir uns das in den 80ern vorgestellt haben.
Fünftminütige Zusammenfassung der gestrigen Vorstellung des Cybertruck, dem neuen, (retro-)futuristischen E-Pickup von Tesla. → youtu.be/m7atGkba-Z8

(Ganz groß, wie die kugelsicheren Fenster im Bühnentest zerborsten und das dann für den Rest der Show zu sehen ist.)
@buffer Feature request for Buffer Publish: Quick switching for Buffer accounts!

I have a personal and a business account and would love to use them both in the iOS and web app without signing off and on again all the time.
@PlayStarRocker Ok, danke für die Aufklärung. Klingt gut, kommt auf "Die Liste". :)