📺 Gerade das »30 Rock: A One-Time Special« gesehen: Ein 1stündiger Infomercial für NBCUniversal und deren neuen Streaming-Service Peacock mit dazwischen geschnittenen 30-Rock-Szenen (oder umgekehrt). In diesem trommelt NBC-Chef Kenneth (!) die… eay.li/3f6e#blogog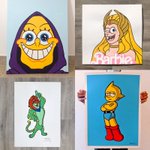 Aaron Craig's Pop Mash → eay.li/3f5 #blog pic.twitter.com/PJOHp8ZpYG
ADuralde Just a reminder that we had a whole HBO show about the collective trauma of 2% of the population suddenly disappearing.
@tibor Vielen Dank! :) Als Alternativprogramm gibt's morgen einen Tagesausflug in die Eifel und dort ein bisschen wandern.
Heute morgen wäre es früh zum Flughafen gegangen und wir hätten vier Tage in London verbracht, wo wir morgen in unserem Lieblingsrestaurant direkt an der Themse unseren Hochzeitstag gefeiert hätten. Also in einer Welt ohne Corona.